Member
Car: 2005 Chrysler 300C AWD
Join Date: Feb 2007
Posts: 48
Thanks: 0
Thanked 0 Times in 0 Posts
Cloudy Headlight Lense
---
Anyone have any suggestions on how remove cloudy buildup on inside of headlight lenses? My passenger side lense seems to have developed some sort of haze on the inside. Is the headlight housing (OEM HID) removable to get a clothe in there to wipe the haze? Hoping I can just pull out the HID housing without removing the whole headlight assembly.
Major Contributing Member
not sure mate, i had that kind of buildup in my headlight, they replaced the whole headlight assembly under warranty
---
Senior Member
Car: 2005 Chrysler 300c
Join Date: Mar 2005
Location: Representing the "D"
Posts: 396
Thanks: 0
Thanked 0 Times in 0 Posts
yup im having the same problem and took it to the dealer and they took pictures to send to chrysler to see if they are going to replace them under warranty. it was last week thursday when i took it in and its tuesday and still havent heard anything from the dealer. going to go to the dealer tomorrow and see whats going on.
Lifetime Premium Member
Car: 2005 Chrysler 300C
Join Date: Aug 2005
Location: Clovis, CA.
Posts: 10,830
Thanks: 0
Thanked 6 Times in 6 Posts
I already experienced this situation with my 300c in Nov. of 06. The moisture will not dry out. DCX will honor the replacement under your warranty. A precedent has already been set since I had the photos taken by my dealership and sent to DCX. There are a couple of threads in the forum outlining my moisture and the replacement process.
Good luck. Honestly, you should not have to wait on this approval.
bruno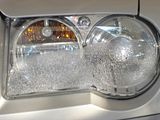 Member
Car: 2005 Chrysler 300C AWD
Join Date: Feb 2007
Posts: 48
Thanks: 0
Thanked 0 Times in 0 Posts
Mine is actually a dry haze. No moisture at all in the lense. Almost looks like the glass on the inside is dirty like the inside of a windshield gets at times (not that I "ever" allow that to happen, LMAO). This does not seem to be a moisture problem as usually happens with enclosed light housings.
Senior Member
Car: 2005 Chrysler 300C
Join Date: Oct 2004
Location: New Jersey
Posts: 165
Thanks: 0
Thanked 0 Times in 0 Posts
It's a broken seal in the housing. It can be fixed, but it's a real pain and usually does not last too well. I'd try to get it replaced by dealership.
---
300C, Magnesium Pearlcoat, Sound/Nav II, Protection II, HID, Moonroof