Member
Car: 2007 Chrysler 300C CRD
Join Date: Jul 2007
Posts: 95
Thanks: 0
Thanked 0 Times in 0 Posts
ESP and the snow
---
I keep getting stuck pulling out in the morning and getting into untreated car parks.

Tried ESP on and off.

I accelerate very slowly but the car stops moving then I hit the pedal a little more and the wheels spin and the back end pull to one side.

In the end I just keep shunting back and forth until I break free.

Somebody said put the box in manual but i dont think I can do this because it will still
try to change gear.

What a nightmare
Elite Contributing Member
Car: 2015 Ford Fusion/Mondeo Titanium X Sport.
Join Date: Jun 2008
Location: Berkshire, UK
Posts: 6,746
Thanks: 164
Thanked 177 Times in 166 Posts
Quote:
I keep getting stuck pulling out in the morning and getting into untreated car parks.

Tried ESP on and off.

I accelerate very slowly but the car stops moving then I hit the pedal a little more and the wheels spin and the back end pull to one side.

In the end I just keep shunting back and forth until I break free.

Somebody said put the box in manual but i dont think I can do this because it will still
try to change gear.

What a nightmare
Thats exactly what I have said on here many times before, it's not like a proper manual even when using it in so called manual. Have you fitted a tuning/chip unit? Mine is horrendous when using one in the snow, I normally remove it and it improves it a little but still not good in the snow. You would have thought they would have fitted an Ice setting/button for the transmission.
---
Last edited by Simon@thecustom300cshop; 12-23-2010 at

03:32 AM

.
Member
Car: 2007 Chrysler 300C CRD
Join Date: Jul 2007
Posts: 95
Thanks: 0
Thanked 0 Times in 0 Posts
Yes I've had the ECU remapped.

Last month I had two new 20" Continentals put on the back wheels. Cost me £600.

But they dont grip in the cold.
Senior Member
Car: 2007 chrysler 300c crd
Join Date: Mar 2007
Location: Warwickshire
Posts: 112
Thanks: 0
Thanked 0 Times in 0 Posts
Its best in the snow with the ESP on as it cuts the wheels when they start spinning, just keep the revs to a minimum and it performs quite well for a rear wheel drive car. Merc and BMW cars are a hell of a lot worse than the 300c.
---
Hop in my Chrysler, it's as big as a whale and it's about to set sail! (love shack)
Senior Contributing Member
Car: 2006 chrysler 300C 5.7 Hemi
Join Date: Aug 2008
Location: Northern Ireland
Posts: 640
Thanks: 2
Thanked 19 Times in 19 Posts
You need proper winter snow tyres. My Falkens on my 300C are exactly the same, absolutely no good in the snow. I also have an automatic crossfire with continental tyres, again useless in snow.
Lifetime Premium Member
Car: 2006 Chrysler 300C SRT8
Join Date: Feb 2008
Location: Minneapolis, MN
Posts: 1,007
Thanks: 38
Thanked 47 Times in 41 Posts
I leave my performance tune installed (Predator from DiabloSport), and thus it will not cut back the power if the tires spin. I like it that way. I believe that is more safe, than the vehicle cutting off my power or applying the brakes. I have driven RWD cars for about 40 years now, so I believe I really don't need a mechanical or electrical assist because my foot is calibrated to not allow too much spinning. Some small wheelspin is going to happen occasionally on very slick surfaces. I am going to assume you are not sitting and allowing the vehicle to produce unnecssary wheelspin, that is if the wheels are spinning and you are stuck or not making forward progress. Problem is if you totally disable the ESP system but pressing the ESP button until it chimes, I believe you also knock out the very BENEFICIAL lateral traction control that assists braking on one or two wheels to stabilize the vehicle in a lateral "skid". That is very different than just a spin of the rear wheels.

Another technique that may help you in very slick conditions - with the car at stop; manually shift to first, then shift once to second gear. Starting from stop in second gear instead of first does not multiply the torque as great and I believe helps from a standing start in very slick conditions.

I don't know if that will help you all out. Also, bottom line - our cars need snow tires to get around adequately in the winter.
---
2015 Challenger Hellcat #2270
Jazz Blue/Sepia/Auto/U-Connect
2006 300C SRT8 - Sold
Lifetime Premium Member
Car: SRT8 300c 2008 Chrysler Y666BHP
Join Date: Nov 2009
Location: Kent UK
Posts: 289
Thanks: 0
Thanked 0 Times in 0 Posts
Fit winter tires like these 22s [IMG]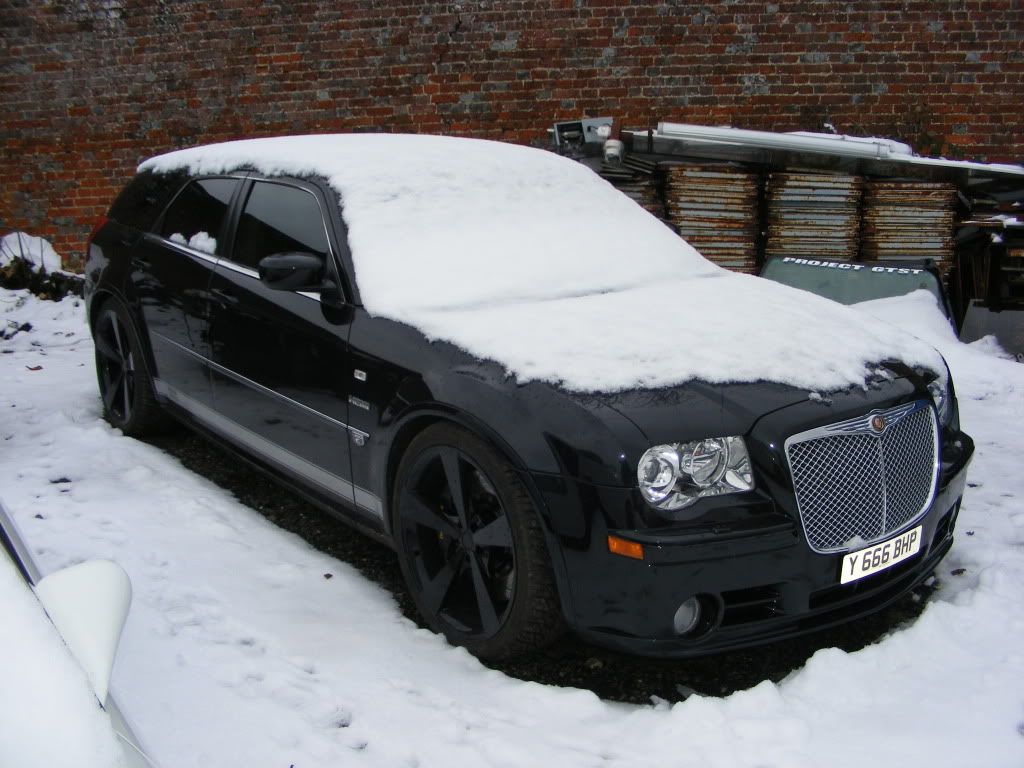 [/IMG]
Senior Member
Car: 2006 Chrysler 300C
Join Date: Jan 2008
Location: Rochester, NY
Posts: 477
Thanks: 2
Thanked 11 Times in 10 Posts
I hate ESP in the winter. If my kids aren't with me, I don't even use it. Makes it next to impossible to lose traction with it on...well, keep it lost anyways. But, for your issue, it sounds like rocking w/o esp is the best option. Better tires would do you well, though.
---
Dis **** right here ninja?
Lifetime Premium Member
Car: 2012 Chrysler 300C SRT8
Join Date: Jul 2006
Location: Calgary, Alberta
Posts: 1,308
Thanks: 27
Thanked 39 Times in 34 Posts
ESP and traction control are great safety features.

However they are limited to the traction of the tires. ESP cannot do anything for you, unless you have adequate traction. Driving up a hill would be a good example. Conversely, ABS is also limited to the same issue. The less bite of the tire on snow and ice, the more ABS will do to prevent wheel lockup, which increases your effective braking distances. ESP and ABS sadly, CANNOT bend the laws of physics. I find that in my discussions with some people on and off the forums, they just cannot fully grab that concept.

Those of you who think all season tires are adequate for winter, you need to change your way of thinking. You need to think of an all-season tire as a "jack-of-all-trades master of none". While all-season tires will provide a somewhat better bite than say a summer performance tire, ( Goodyear F1supercar) It is no match for a dedicated winter tire.

The biggest problem with all-season tires is the rubber compound. When the temperature is below freezing, this compound becomes harder, which in turn negatively affects the tire's traction. A winter tire on the other hand, has a silica-based rubber compound which is not affected by below freezing temperatures. Combine that with the aggressive tread characteristics of a winter tire, and you can really see a difference, especially with RWD sedans such as our own.

As a trade-off, a winter tire gives up some handling, as opposed to an all-season/performance tire. The ride will be somewhat softer than what one would be accustomed to.

The ABS/ESP and traction control systems can only work with what you give them. They are limited to the tire's traction. If you have none, then you'll get none. IMO, get a set of dedicated winter tires, and wheels. The added expense will balance itself out, as you save tread life on your other tires. It does not have to be prohibitively expensive either. God knows there is always someone selling factory wheels/tires on the forums for a fraction of what you would pay retail.

Another thing to know, is that winter tires ONLY wear out on dry pavement, and NOT in snow. With good driving habits during the lesser snow periods, you can conceivably get 3 to 4 seasons out of your winter set, along with a better/safer winter driving experience and spare the life of your other tires in the process.
---
VYPER883
300C... A Demon In Gentleman's Clothing...
300C SRT 8... The Demon's Boss Dressed to the Nine's...
"
Ever notice how you come across somebody once in a while you shouldn't have ****** with? That's me." Clint Eastwood as Walt Kowalski in Gran Torino.
Senior Member
Car: 2009/2012/2013 Chrysler 300C Hemi/300 SRT-8
Join Date: Nov 2011
Location: Kalamazoo,Michigan
Posts: 139
Thanks: 3
Thanked 3 Times in 3 Posts
I have driven mostly RWD also, and with most cars RWD you can use the differential to help by slightly applying the brake along with light throttle if slipping or spinning/stuck in a driveway or other area at slow speed, this technique locks the differential so both wheels grip, I have had some cars that were worthless in snow and that technique helped...... you just dont want to use it too often under heavy throttle it will cause side gears to wear on the shaft quicker and a bit tough on the brakes if over spun... also not sure how a 300 does in snow as mine is headed for storage but it works on all others i have had even with ABS but none had ESP so not sure if it would be much better at all.
---
Last edited by DjHEMI; 11-25-2011 at

11:53 PM

.
Similar Threads
Thread
Thread Starter
Forum
Replies
Last Post
Snow on the SRT in Vegas. YES, 3 DAYS OF SNOW IN VEGAS!

SRTIZZLE

Chrysler 300 Picture/Media Post

15

12-25-2008

11:11 PM

no esp

pimp mobile

Performance General Discussion

0

08-26-2007

06:12 PM

Esp

Fabes

General Discussion

2

06-19-2007

12:30 AM

Esp ???

SRTech8

General Discussion

4

01-07-2007

01:51 PM

Esp

haas

1st Gen SRT8-Specific General Discussion

15

08-05-2005

10:52 PM