Today I took the S in to get tinted windows and a clearbra. Went back to the pros at Tint King in Billerica, Ma. These guys are the veritable "Gods Of Tint " !!! They do Llumar, 3M, metallic, non-metallic; you ask for it they have it. All precision-cut by computer and machine. The SRT-8 doesn't have a template, so they used the 300C template and then did a bit of custom work on the clearbra pieces that wrap around the SRT-8 headlight spray nozzles, as well as the lower lip (both pieces looks VERY clean). For window tint, they hooked me up with some barely-legal 35% tint for the front seat windows, and not-quite legal 25% for the rears and the back window. I went with 3M all-around. You cannot tell the backs are darker than the light, but it helps the car look just that much darker...
here's the car about to go under the knife:
and here she is just a few hours later: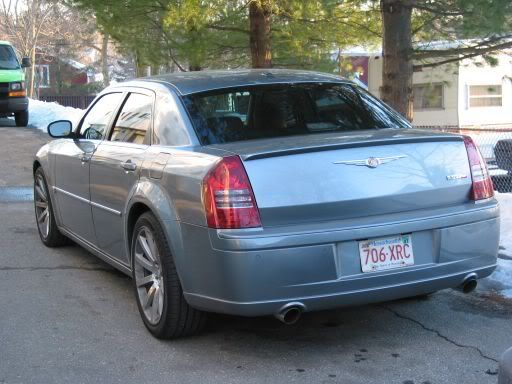 for those wondering how the clearbra looks, i found an angle where you could see the VERY fine line at the edge of the film:
then i moved the angle a hair, and it disappeared: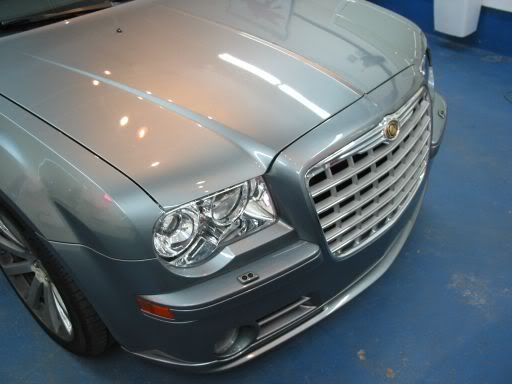 can't see from here, but everything painted is covered by clearbra (the backs of the side mirrors are also protected):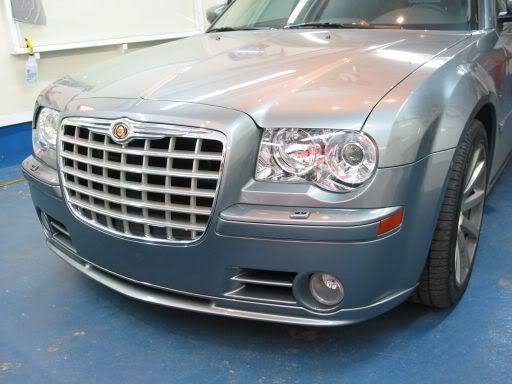 I can't say enough about these guys at Tint-King. State-of-the-art products, put on by guys that really know their business, and really know what customer service is all about. Saw the same installer today that did my S4 back in the spring of 2001; he says they do about 8 cars a day; I guess he's got a bit of experience LOL!
When I came back for my car there was a sweet new IS350 in the bay getting tint done; sorry I didn't get a pic...
For anyone in MA, or even nearby RI or NH, give these guys your business. Their shop is a few miles north of the Burlington Mall; their website is
www.tint-king.com
.
Tell Trent that Brian in the SRT-8 says "hey"
Next on tap, I have husky liners in the mail as my winter mats, and my carbon-fiber-look license plate frame just arrived today and will go on tomorrow afternoon. For those with silver steel, carbon-fiber seems to be the best match, but I'll let you see for yourself after i post pics, probably tomorrow. Then I'll probably wait till the spring for grill and exhaust work.
I'm also working on a vanity plate...but I'm not gonna tell you what it is until I get it; don't want any fellow 'massholes' stealing my idea :biggrin: