Discussion Starter
•
#1
•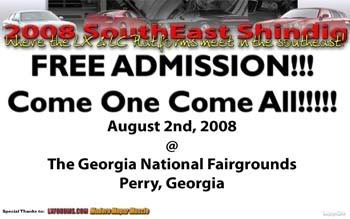 Were having a fun time this year!!!! We've got a lot of things lined up!
Friday August 1, 2008
Race night at the Silver Dollar Raceway for the Shindig LX Challenge!!!!!
4pm-Whenever
Think yours is the fastest??? Prove it!!
For more info:
2008 Shindig LX Challenge race update.... - LX Forums Modern Mopar Muscle
Prizes for the fastest LX/LY's
Saturday August 2nd, 2008
3rd Annual Southeastern Shindig Carshow!!!
for all 300, Magnum, Charger and Challenger vehicles
Registration from 8am to noon!!
The event includes prizes, raffles, a parts swap,vendor workshops and more!!!!!
<<<<<< HOTEL Reservation info: >>>>>>
Holiday Inn
200 Valley Dr, Perry
Perry, Georgia
478-987-3313
Price per night: $72.99 for reservations placed before July 1st
(Use Group Code "LXF" when making your reservations)
Over 100 rooms available!!!!​
More information is available in the following thread:
http://www.300cforums.com/forums/ma...-free-entry-georgia-national-fairgrounds.html