This here is the be-all end-all AIRHAMMER thread! If you have a question, BRING IT. If you have a comment, GIVE IT!
I first thought of the basic concept design for the AirHammer about eight and a half months ago when I happened to be looking at the intake funnels of ships.
My inspiration for the AirHammer concept came from trumpets, pipe organs, and the Sonoramic long Ram intake manifold.
​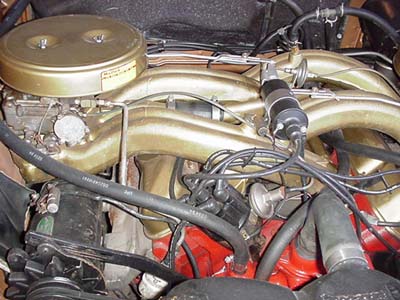 The more I thought about it, the more it made sense that the by enhancing the acoustic properties of an intake tube and decreasing wall friction and smoothing out flow paths that there was power available. Once I ran the calculations it became clear to me that I am onto something.
I designed the shape of the mouth from trumpets to enhance and focus the energy of the intake pulses, which, are not unlike the pulses of a trumpet players lips. The length of the AirHammer was derived from the length versus pitch effect of pipe organ tubing. Also, it being made of heavy stainless steel means that it has a lower natural resonant frequency and doe not flex like plastic or rubber. All of the acoustic energy gets transmitted gets transmitted to the outside air, like metal pipe organ tubes. Once an acoustic pressure wave hits a major difference in the diameter of the tube it is traveling along, it creates a wave that heads back down the tube at the same rate as it was traveling out. The long tube ram manifold that you see in the picture takes advantage of just that principle to boost mid and low-end power. The sizing of the tubing was chosen to reduce wall friction and boost acceleration of the air as it proceeds in. So you get great flow with minimum turbulence and the loudest damn intake EVER!
A lot of folks holler:
THAT DANGED THANGS A SOLID CHUNK A-METAL! It's gonna heat up the air terribly!
Not necessarily so. Think of this:
There are less than 462 cubic inches (2 gallons) of volume inside the barrel of the intake.
At wide-open throttle at 6000 RPM, the mighty HEMI will eat 600 cubic feet a minute.
This means that volume of the intake vanishes into the hungry maw of the HEMI in
roughly 3 complete rotations of the engine. At 700 rpm, each revolution takes .0856 seconds. So, at idle, the air is replaced roughly 11.5 times a second.
When you give'er the gas… that air is moving FAST! Too fast for the metal of the intake to appreciably convey heat. Air management inside the engine bay is far more influential.
On all units, intake temperatures climb when the MDS kicks in at cruise​
A properly ventilated engine bay will drop temperatures by as much as 30*
Depending on ambient air, engine bay heat soak, throttle position, and vehicle speed; Temperatures can drop around 10* per second.
I have found that with the AirHammer and minus the baffle and master cylinder cover, I can cruise with the IAT being ambient +3-7*.
These are just a few of the things that I had to work out…but you get the idea. I am proud to say that after wasting a lot of stainless steel, sharpies, paper, and good night's sleep, I had the first test prototype. I tried on mine first and I KNEW I had something!!
I told my friend, Meister, about it and he had to have it! So, I made up a decent looking production prototype and sent it to him… and then the rest is one wild ride!
I have never paid anyone for any test that has ever been ran on the AirHammer. Everyone that has had dealings with me KNOWS that you always tell me like it is, to do anything less.. is lying to me.. and I take lying very poorly! I ASKED them to test it with suspicion. I WANTED them to find something wrong with it. Failure can teach you almost as much as success!
SO, with that, I give to you all of the gathered data, tests, descriptions, and images of the AirHammer
MFO5 Test:
http://www.lxforums.com/board/showthread.php?t=43246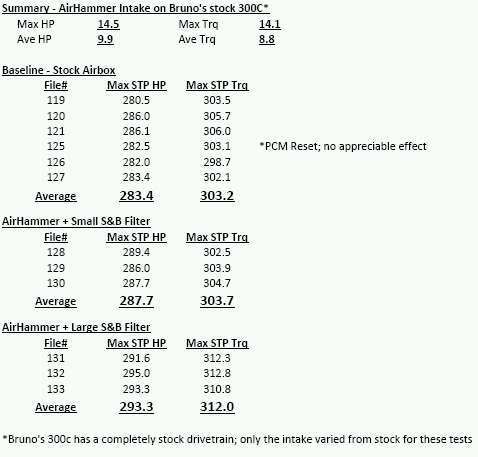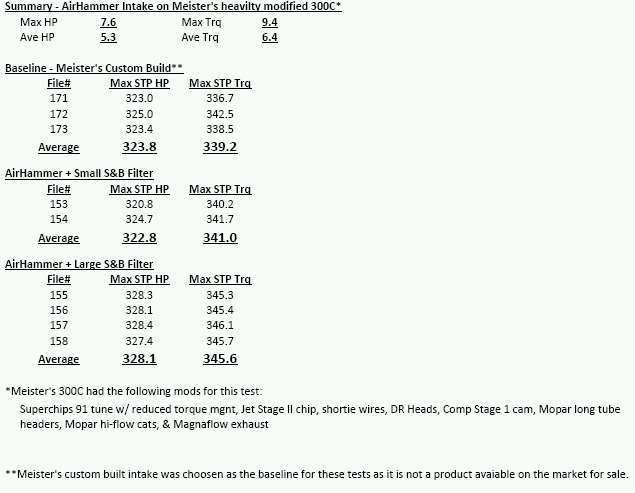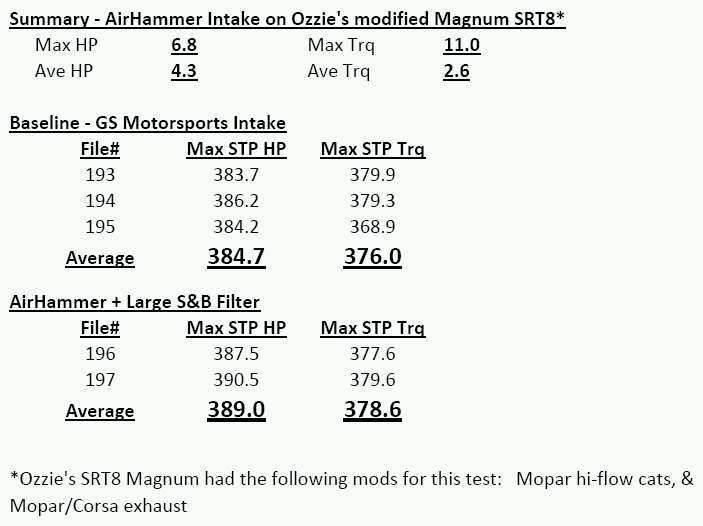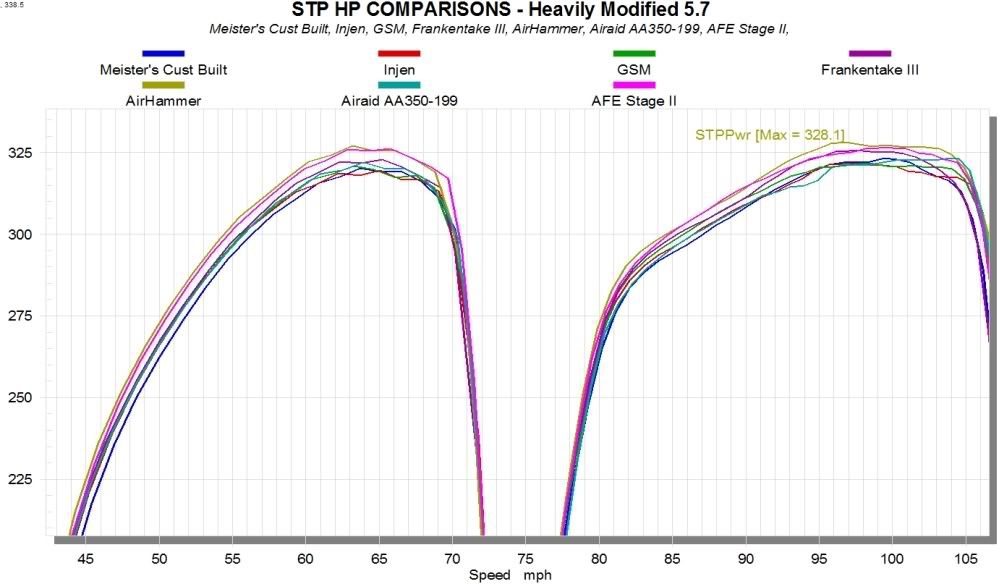 Images!
This is yer standard issue regulation 8 year old girl, for size comparisons!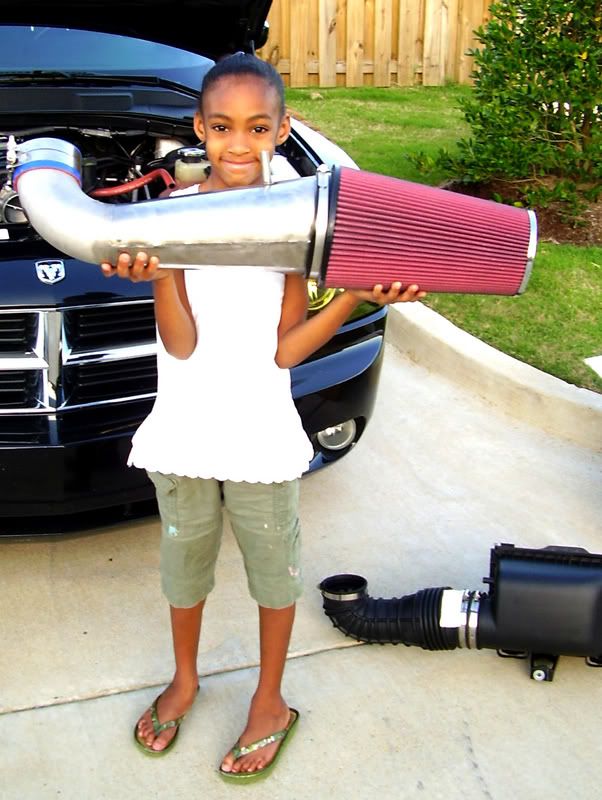 SHINY SHINY!!! And that aint chrome!!!
​
YER polished versus yer standard finish!
Here is the production prototype from MEISTERS car
Like i said, this is the test proto and does NOT represent the actual finish!
This next part is from:
http://www.lxforums.com/board/showpost.php?p=530083&postcount=96
The tubing itself doesnt touch the throttle valve assembly. It is held on by heavy silicone tube and stainless steel T-bolt Clamps.
AT WOT, the air passes through the intake fast enough where the amibient and underhood air temps are far more of an issue!

Using this intake and taking continuous and direct measurements with the HyperTech Hyper-PAC with and witout a left front radiator baffle I have found that through using 5 different intake arrangements including:

360* Air Intakes
Stock Airbox
Mongo K&N filter with straight pipe
Modified stock unit where the rubber tube attached directly to a K&N cylindrical filter
Straight Steel thinwall tube and NO filter

These things occur:

The AirHammer will now fit 5.7L, 5.7L AWD, and 6.1L
NOTE:
This intake is NOT C.A.R.B. approved and is meant only for 'off road' use only… nudge nudge wink wink…
The entire kit is 350.00
The Airhammer intake is solid stainless steel with a 4 ply silicone hose coupler to the throttle valve assembly. The coupler is held in place with solid stainless steel marine grade T-bolt continous circle clamps.

All models feature custom built superformance AFE filters made for me in
Corona
California
!

Polishing is now available again for 75.00!
This is what you get:
1 AirHammer made from Military Grade Stainless Steel intake (Made in Tennessee)
2 Stainless Steel Marine Grade Continuous Circle T-bolt clamps (Made in Ohio)
1 Black 4 ply Silicone connector (Made in Texas)
1 High Flow Cleanable Custom Spec AFE Filter (Made in California)
Anti-rub pads made from Cordura Nylon (Made in Alabama)
1 PCV Vapor Hose in black 100% Silicone (Made in California)
[FONT=&quot]


ALL HAMMER MOTORSPORTS PRODUCTS CARRY THIS GUARANTEE:



[/FONT]
[FONT=&quot]

YOU DONT LIKE IT, I BUY IT BACK FROM YOU.

[/FONT]
[FONT=&quot]
THATS IT.
[/FONT]
AIRHAMMER IS AMERICAN MADE!
THE AIRHAMMER IS ALSO UNION MADE PROUDLY BY THE LOCAL SWMIA#177 AND EACH PROUDLY BEARS AN INDIVIDUAL SERIAL # PROCLAIMING THAT FACT!
[FONT=&quot]THE AIRHAMMER IS PROOF THAT WHERE TOP QUALITY AND PERFORMANCE IS ULTIMATE PRIORITY, NOTHING CAN TOP THE
[FONT=&quot]USA[/FONT]
[FONT=&quot]![/FONT]
[/FONT]
I will not stand for substandard
ANYTHING!
The kit includes every single thing you need plus instructions!

Yeah, there are folks that sell their stuff cheaper. They know what their stuff is worth!


I offer a proven product at a decent price because I am not being a greedy bastidge!
When I put a Hammer Motorsports product in front of you….
​
it will be right.
If you ain't completely satisfied I will give you
100% of your money back.
All you will be out is the shipping
That's it!
If ya got the balls to sell it, have the balls to back it!
My primary goal is to make Dodge Charger, Magnum, Chrylser 300c the American Kings of the Street once again and make a lot of folks smile in the process.
RESULTS, QUALITY, PRIDE
THOSE ARE MY BENCHMARKS!
You want it?
I got it!
Paypal me @
[email protected]
I will now entertain questions!
​