I found pictures of the new Death Race movie with Jason Statham on Jalopnik.
The bad news... It's probably gonna suck.
The good news... It's got a 300.
Even better news... More mod ideas for the 300 owner who really wants that distinctive touch.
So, who's got the "stoney rounds" to do this to their ride?
Take a look...
The 300 driver's character name is Grimm: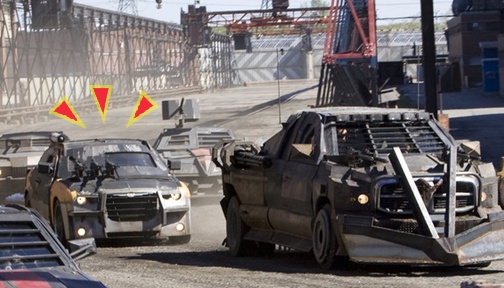 Here's the mod list if you want it:


Suspension: Air Ride Technologies air suspension kit
Wheels: 20" American Racing Wheels
Tires: Front- Toyo Proxes 4 245/45ZR 20
Rear- Toyo Proxes 4 255/45ZR 20
Brakes: Stock braking system
Stunt Modifications: Roll Cage
Kirkey aluminum racing seats
RCI 5 point harnesses
Tildon hydraulic secondary brake system
Custom fabricated fuel cell
You'll have to find your own after-market weapons system and vender
I may wait to see this when it's available for rent, unless some other brave troop goes to see this thing in the theater and gives it the thumbs up.
What's your take on this?