Discussion Starter
•
#1
•
Ok, for those who need a front plate on their car and do not want to block the grille with the factory bracket, or those with aftermarket grilles and dont have any way to fasten the bracket, ive come up with a solution to this problem...after contemplating what to do i decided to go to the dealer and get a 2nd bracket to modify to come up with a solution, Take note to the pics as i will try to describe what i did...
Note the tabs that clip into the grille, and the tab in the middle. They need to be cut off with a Dremel or a hacksaw blade works just fine, make sure to cut them down enough where as when you hold the bracket and look down on it you cant see the cut portions of where the tabs were, now the sides of the bracket protrude out to contour the bumper these little bits must be cut as flush as possible, try to follow the contour of the bracket as you cut, after making your cuts check the fitment on the car and remove any high spots on the bracket so it sits flush, notice in the pics...Pics are before and after...
Before.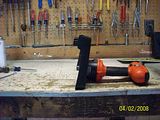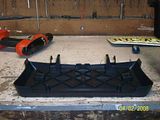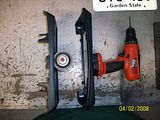 After.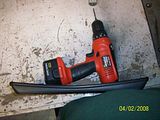 Now the jagged cut edges looked ugly so i went to Pep Boys and picked up some door edge molding and applied it around the braket using a propane torch to gently heat the molding as i curved it around the bracket, it turned out better than i thought it would...
Next i positioned it on the car and judged where to drill some holes through the bracket so that i could mount it to the car and hit the bumper, as you can see in the picture, i put some screws in the holes to show where i made the holes...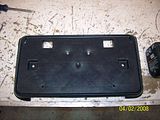 Next comes the cringe part...time to make some holes in the bumper i forgot to take pictures at this point cause i was by myself, so use your imagination...the bracket contours well to the bumper below the grille so line it up perfectly and drill your holes, runs some screws into the bumper to attach the bracket, install your plate, anchor it down, and enjoy being able to see your entire grille without having a plate blocking it....
Any other questions just ask me, im sure i forgot to mention something in there somewhere...