Discussion Starter
•
#1
•
SITTING IN MY GARAGE!!
:banana: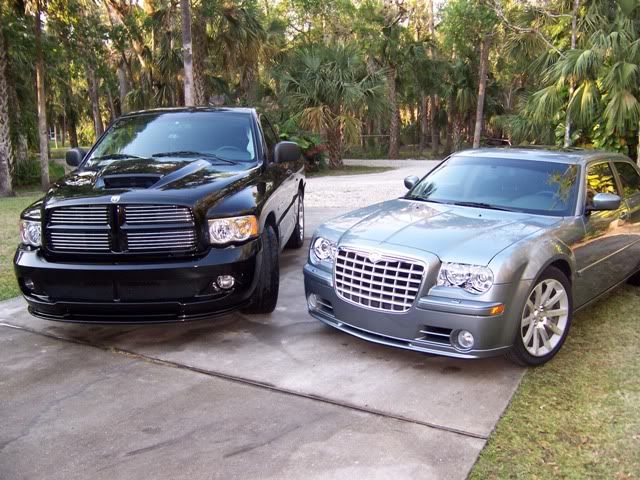 Yes Ladies and Gentlemen the long wait is over. After 330 days, 12 hours, and 15 minutes I've finally got my beloved SRT8!! It actually arrived last Tuesday so I've resisted posting as I wanted to spend some "quite time" with her.
I know others have much more impressive stables than mine, but I doubt many have had to wait as long as I did to become the last man in North America to receive their custom ordered SRT8!:biggrin:
When I ordered my car back on March 29th 2005 there were very few SRT8's out and about. Some of the early ones like
JMatt
, and
Rambit
pioneered the way for us enthusiasts. I'll never forget
Rambit's
picture of Grunt's signature on his car- I thought that was the coolest thing since sliced bread. Who could forget the excited posters announcing that they finally had a VIN- or the debates on dealer allocation? You don't see posts like that anymore. How could we forget the hoopla over the Kicker system and the subsequent production delays? Thanks go out to
Johnny "The Kicker" Vig & Chris Butler
for leading us through the maze and mystery of the Kicker and its subsequent delays. Then one by one all the people who had ordered their cars in January/February 2005 began to get their cars. (Some even got two like
XCITsNU
!!) The debates shifted to who was price protected, and who was exempt from the Gas Guzzler Tax.
JMatt
started the SRT8 Registry; the "Pink Prius" dude
VVV
received his beautiful black SRT8 with loads of "head room." During the summer we all followed
Chris Butler's
fantastic cross country voyage to Grand Rapids and his wild adventures homeward bound to California. Others had their cars shipped from out of state as dealers began the MSRP dance from hell. I want to thank all of you early owners out there for posting pictures, descriptions, or any other mundane thing- it didn't make any difference to me- I just ate up your experiences. You're the best!:biggrin:
Now for my impressions. When I first turned her on I knew instantly I had a tiger by the tail. As some of the old timers may remember I attended the first SRT Experience back in May 2005 in Daytona. (I believe
Chris Butler
was about to have a melt down on waiting for his Vixen during this time- or at least was hitting the bottle pretty good):biggrin: :biggrin: I felt like I was able to do a decent test drive- considering how scarce they were back then. But the sound my car makes doesn't sound like the car I drove back in May. My car has a much more deeper tone to it than I remember hearing back in May. Something else I don't remember hearing at the Experience was the very noticeable
BOOM
the car makes during WOT- not just once, but through each and every gear change. I remember reading others mentioning that sound, but I didn't realize that it really is quite a
BOOM
. I took my buddy that went with me last May in my car and he also agrees it sounds way different than the SRT8's we drove in Daytona. Don't know why it is different, but it is a damn good difference. I never expected that 85 more horsepower would make such a tremendous difference, but it does. My 5.7 was a lot of fun- especially after coming off a Lincoln LS, but the SRT8 is just beyond amazing. The 5.7 & 6.1 are two entirely different cars- way different. The handling, suspension, and brakes all work together to give the driver a fantastic experience behind the wheel. No wonder many posters have stated that they can't wipe the smile from their faces each time they get into their cars. I've not stopped smiling for an entire week and my cheeks are getting sore. :biggrin: Speaking of sore cheeks, the 5.7 had nice seats, but my rear used to get really tired early on my daily commute. With these awesome SRT8 seats I've not had any rear fatigue on my commute to and from work.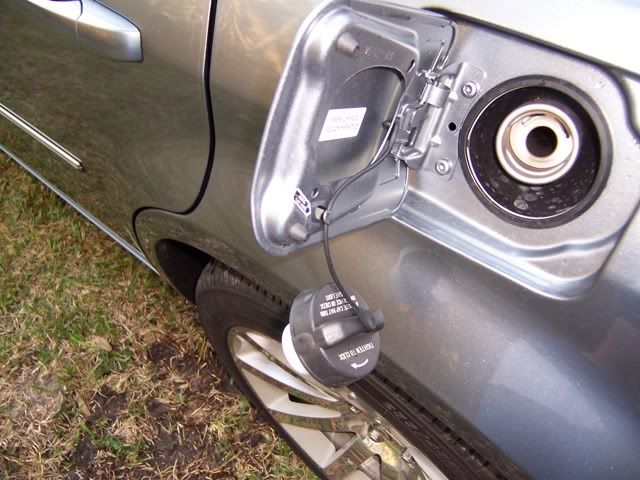 Changes that I've noticed- already mentioned but not photographed ..the gas cap holder,
the cruise control light on the dash
The car was built on 2/10 and delivered 2/21- which I find amazing given the sluggishness of other members delivery times.
I've had the car 1 week exactly and have put on 625 miles/12 hours = 52.8 (Thanks DanRealtor for starting my obsession with this little statistic!!!)
I've had the windows tinted 20% all around. I've had Clear Bra installed in the following areas:
1. Full Front
2. Lights
3. Rockers
4. A Pillar/Roof Line
5. Door Edges
6. Handle Cups
7. Rear Bumper
8. Thresholds
9. Trunk Lid
You can hardly see the line until you get right up on it.
Some of my buddies joked that I should go ahead and have the thing put in a giant zip lock bag. But hey, I've waited a long time for this car and the roads I drive daily are full of rock throwing trucks! The paint on this beast looks amazing! I've found one small imperfection on the lower left rear panel- so I want to keep her looking nice. I highly recommend the Clear Bra- it has already saved me twice from some good sized boulders- not to mention the south Florida bugs!:biggrin:
Soon after my 300 miles were up (I really, really tried to be good) I came upon an azzz driving a modified Mazda RX8. He decides to ride my rear bumper, pass, and then do a front shave. Not today dude. I just punched the beast down and passed him. He didn't like this and the race was on. He remained at my rear door all the way to 145 then she just pulled away until he gave up. Later he caught up to me when we pulled back into town. He gave me double thumbs up, flashing lights, and horn. He wanted to talk to me so I pulled over. He was totally freaked out. The first thing out of his mouth was damn what do you have in her!! He had heard of the SRT8's but didn't think he would run into one out in the middle of BFE. It turns out he has a turbo charger on his car. I'm not all that familiar with those cars- so I don't know what they can do. Oh, for those against street racing- this was done on a limited access four lane highway out in the middle of no where- and I mean no where. There was zero traffic.
I've not noticed the transmission hesitation that many others have reported. Perhaps that has finally been addressed in later builds. My brakes don't squeal and I've no rotor scoring as of 625 miles. The brake dust is not the best, but it doesn't seem to be as bad as I was expecting. After reading months of posts about the crap I expected to see the Sahara Desert in each wheel after a few stops. So I don't know if there have been any changes made. My Navigation system has the latest AD version of the program.
I'm very pleased with the car. I am not bitter about the long wait. I know many of you are saying "dude, why didn't you go somewhere else"! I'm very loyal to my 5 Star Dealer for many reasons. I also felt I couldn't bitch since I was already driving a 300C and a Ram SRT10. Of course now my dealer went from having no SRT8s to having 4 arrive (including mine) Anyone that lives in South Florida who wants a good deal on an SRT8 shoot me a PM and I'll give you the contact information for my dealer.
I apologize for the length of this post, but you don't know how many times I dreamed of this day when I could come here and share my excitement as many of you have shared yours. Thanks!!!
So if you come down to Florida be on the lookout for this car
It's so nice not to be a poser anymore!!:biggrin: