Hey guys, I decided to start a new thread for my 2015 300S Interior LED conversion because many of the bulb types and bulb locations I reviewed have changed since the older LED threads were posted.
Additionally, I specify "Interior" conversion because on MY15, most, if not all the exterior bulbs (Fog Lamps/License Plate Lamps/Side Mirror Indicators/DRL's) are already factory LED's, and nice white ones at that. ::wink::
Interior LED Type/Quantity Listing: (All 2015 & 2016 300 models have the same bulb styles and quantity)
Trunk Lamp - 2 x 44mm Rigid Loop Festoon
(AKA Type 561/562/563/567/ 564/566/570)
Rear Door Puddle Lamps - 2 x 44mm Rigid Loop Festoon
Front Door Puddle Lamps - 2 x 44mm Rigid Loop Festoon
Rear Map/Dome Lamps - 2 x T10 Wedge Bulb
(AKA Type W5W/168/194/921...etc)
Front Map/Dome Lamps - 2 x T10 Wedge Bulb
Glove Box Lamp - 1 x T10 Wedge Bulb
Visors/Vanity Mirrors - 4 x 29mm Fuse Shape (6641) Bulbs
The LED Bulbs I Used - Total Cost $39.56 (Includes 15 EXTRA bulbs)
:

10 x Super White 44mm 5050 6 SMD Rigid Loop Festoon Door Map LED Light 561 562 | eBay

10x T10 White High Power 5630 6 SMD Interior Reverse LED Light Bulb 921 912 906 | eBay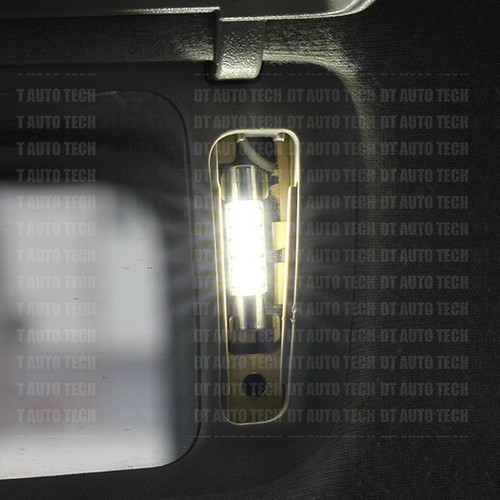 10X High Power 5630 LED Bulbs Sun Visor Vanity Mirror Light Fuse Shape 6641 29mm
Let's just say I am LED obsessed...:angel: I've been successfully swapping/converting automotive bulbs for about 12-years now across many makes of vehicles owned and in the family including Jeep, Scion, Infiniti, Hyundai, Lincoln and now Chrysler. I will say a lot has changed for the better in LED technology over these years, and I have learned a lot through trial and error spanning countless brands, bulbs and LED styles.
That being said, for the most part I no longer support the "Big Guys" such as V-LEDS, Diode Dynamics, Autolumination, DDM Tuning, SuperBrightLeds, etc. for several reasons.
#1
They are OVERPRICED.
#2
They are often still pushing OLD LED technology.
#3
Their bulb quality/reliability are FOR THE MOST PART no better than REPUTABLE, TOP-RATED eBay wholesalers. In many cases I would even suspect the big guys are using the same wholesalers that you can deal with directly without the markup based on IDENTICAL bulbs I have received.
So there's my background rant, and my personal experiences, the choice is yours..... I do have a list of trusted go-to eBay suppliers, so feel free to hit me up via PM or on the thread for LED suggestions or any install questions/problems. :nerd:
*** Before & After pictures will be uploaded as soon as I get through installation ***