Discussion Starter
•
#1
•
hey everyone i just finished installing my halos and i ran into a big problem......... one of the halos are a different color. i ordered my set as 8000k and i believe that one of them is 6000k after i looked at the chart on one of the aac postings. the first problem i ran into was that when i recieved the kit, one of the large halos were broken. i called justin and he immediately replaced it which i really appreciate. i tried calling justin today about one of the small halos being a different shade but they were closed already. i just hope we can somehow resolve this problem because seeing that one halo is just bugging the hell out of me. i sent him an e-mail with pictures so that he can see it for himself. i really hope justin comes through with fixing this problem. i was thinking since aac has a headlight replacement program that they can send me a set of headlights with halos and i send them my original set. is that too much to ask for? what do u guys think?
my email to justin at aac:
hey justin this is paul. i tried calling just now but i believe your closed already. i recieved the replacement halo this morning and i want to thank you for the smooth transaction. the reason im emailing you is because i just now finished installing the headlights on to my 300. i love how they look but i came across a major problem..... one of the halos are a different color which is the small halo for the high beams. this was not the halo that was replaced but one of the halos that came with the original kit. i figured that i had a long day and it was just me so i asked a few of my buddies to look at the halos and try to see if one of them is different and sure enough they noticed that the same halo was a different color. i looked at the chart on the 300c forums and figured out that the one halo that was different was the 6000k and i ordered 8000k. i mean i wouldnt mind replacing the one halo but the problem is that i put a lot of silicone to seal those headlights and i know it would be a real hassle to remove them again. as of right now i have no clue how we can get this fixed. i know that you have a replacement program when someone sends their original headlights and you would send them a new set i dont know if you would consider sending me a new set of headlights with halos and i could send you my original set. i really dont want to take these halos apart because i know that all that silicone is going to be hard to take out. please call me asap with your thoughts on how we can solve this issue. call me at 805-616-XXXX. thanks again justin. i will enclose the picture. it is the driver side small halo
this side is perfect all "8000k"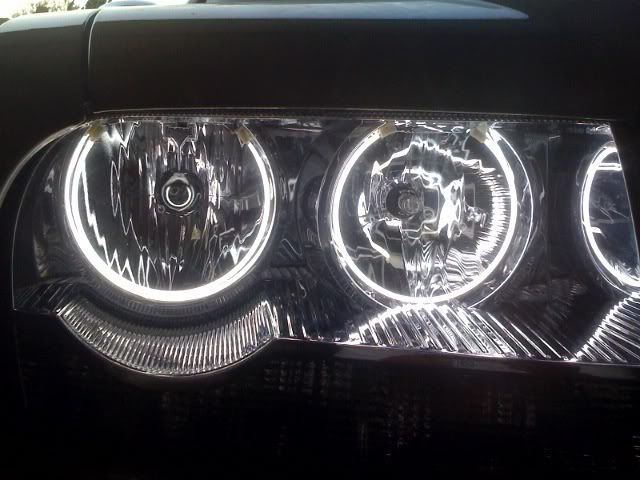 this side has the small halo with different color. one "6000k" and one "8000k"