And the winner is.... eudaman!
Yes, those were indeed fatchance's wheels on my car.
Anybody else notice??
fatchance saw that there were questions I couldn't answer about the Hotchkis springs and swaybars with larger wheels since I was running stock.
He PM'd me and said:
~Linda
If you have a couple of floor jacks, I say I cruise up to your house and put my 22's on your car.
Then we can go cruise for a bit so you can see what you think.
W
W... what a generous offer!! To run my car for awhile on only the most beautiful wheels I've seen yet on a 300??! So who am I to turn down such a proposition??
It's a DATE!! After all, this was being done in the name of research...
Hubbeee was scheduled to work on my Nomad, but had the entire week following off for our upcoming car show up north so he was willing to sacrifice the time and space
...in the name of research, of course!
I invited a couple of 'locals' to watch the fun; deegee showed and we took some pics of our 3 cars together, but 300TouringNproud had to work.
Darn it, as you will see by my pics, we could have used his photography skills
...in the name of research, of course!
Hubbeee and fatchance went to work making the wheel switch... no easy task in the heat.
My participation was reduced to wiping sweaty brows, replenishing drinks, locating misplaced sockets and making a run to replace a dying impact wrench...
Oh well, I was happy to save myself for the test drive
...in the name of research, of course!
Finally the switch was made and it was time for the moment of truth. deegee joined us for a short run and seemed duly impressed, perhaps he'll chime in here later. Then I dropped him back at the house and fatchance and I went for a good long cruise on just about every type of road I could think of to give me a broad spectrum of comparisons... bumpy, rutted, curved, hills, freeway, surface streets, dips and driveways... and all roads I am very familiar with under stock conditions, as well as with the Hotchkis suspension with my stock wheels/tires. Impressive!!! As I outlined in my review
-here-
Then I took fatchance for lunch and a brew to say 'thanks' for a really cool day
...in the name of research, of course!
We got back to my house and Hubbeee went to work with fatchance switching the wheels back again (*dammit*)
Hubbeee never did get to work on my Nomad that day... what a good sport he has been!!
fatchance and I then parked our cars together face-to-face for final pics for comparison. Hubbeee measured both cars from the street to the top of the wheel wells, which I've provided below
...in the name of research, of course!
fatchance... Thank you again and again and again, I always have fun when I'm with you, but this was a really generous thing for you to do! :kiss: :hug:
Research, schmesearch... that was a kick!
Really, I wasn't trying to deceive all of you, just having a little fun...
we need it around here lately, so

SMILE

:veryhappy
fatchance -
-Wheels:
Raceline one-piece forged 22x9
-Tires:
Nitto Extreme 255/30/22
-Diffs:
(compared to mine stock) Front 1/4" lower - Rear 1/8" lower
Hotchkis Performance springs and swaybars specs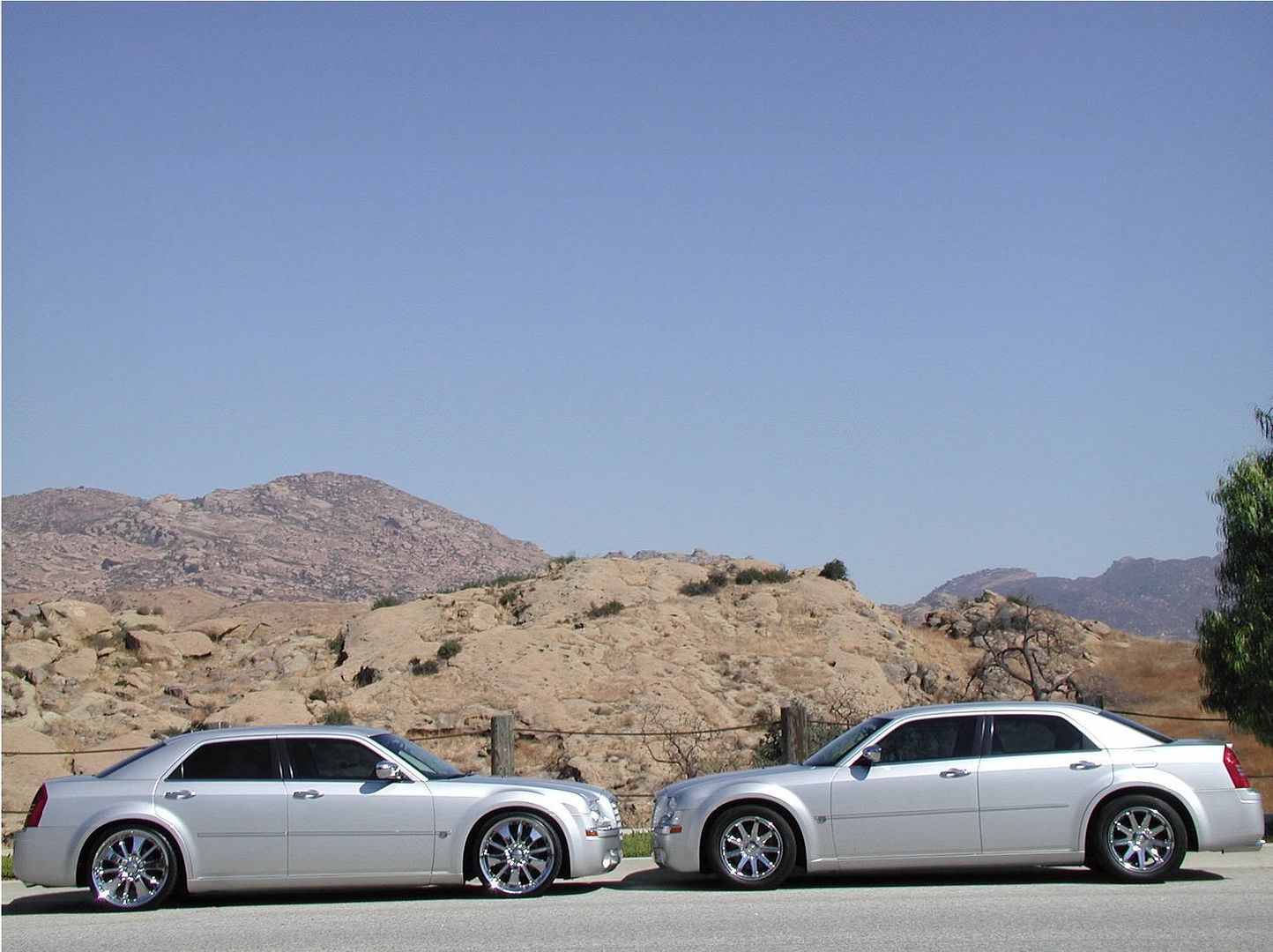 click...
The 3 of us
A few from slightly different angles